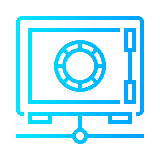 Security Infrastructure monitoring
Sensora has the ability and knowledge not only to check security issues of the company but also provide quality solutions that will make you understand and monitor the environment and provide an Incident response plan.
The threat of cybercrimes is one of the most severe reality for any company nowadays. An actual question is not whether you'll be hacked, but rather WHEN you'll be hacked. Sensora has created a Security Infrastructure monitoring solution in accordance with gained experience and best practices. The latest cases showed that isolated perimeter between private and public networks no longer exists. We have developed a monitoring system that is adaptive to any infrastructure and have a 24/7/365 support team.